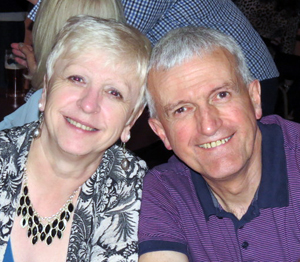 Rob and June have both worked in the field of Complementary Health since 1992. They live in the County of Bedfordshire. Rob and June have completed the College of Sound Healing Tutor Training Course. Together they have lead many sound healing workshops, which incorporate toning, chanting, sacred mantras and a lot of laughter.
JUNE is a trained Crystal Healer, Reiki Master, Relaxation Therapist, Cord Detachment Therapist and Sound Healer. She has worked with the energy of crystals for many years.
Going on to work with the Crystal Singing Bowls was a natural progression after completing her course in Crystal Healing. June created the Crystal and Himalayan Bowl Practitioner Training Course in 2015 which has proved to be very popular with many Students going on to qualify as Practitioners over the years.
June did her Sound Healing Training with the British Academy of Sound Therapy. June is the Membership Secretary for the College of Sound Healing.
ROB has trained in Sound Healing, Reflexology, Hopi Ear Candling, Reiki to Master Level and along with June they regularly teach Reiki to all levels throughout the year.
Rob did his Sound Training with the College of Sound Healing. He is the Chairman of the College and is also a keen didgeridoo player.
June and Rob are also retailers of Himalayan Bowls directly from a family in Kathmandu, Nepal.