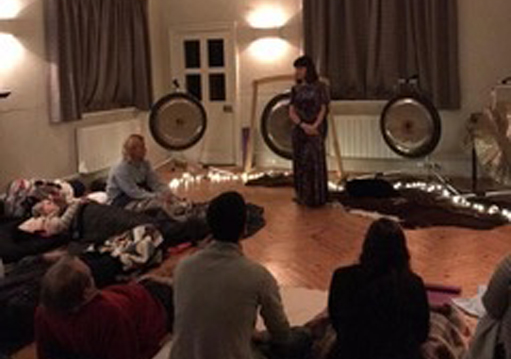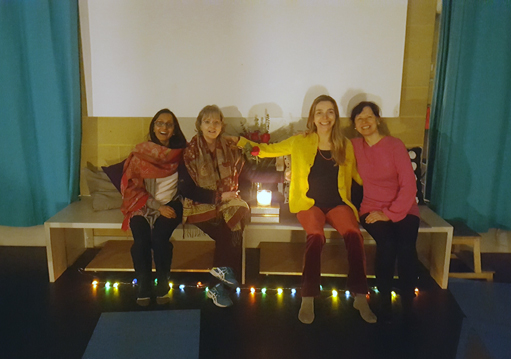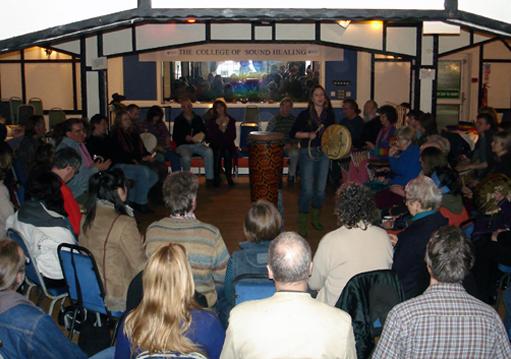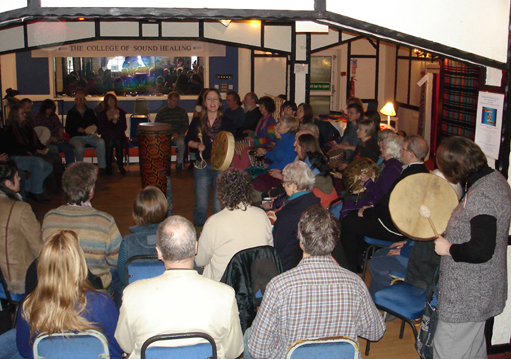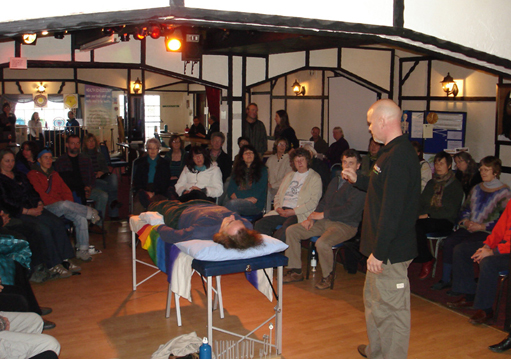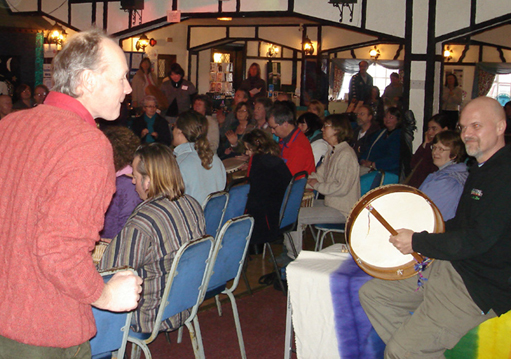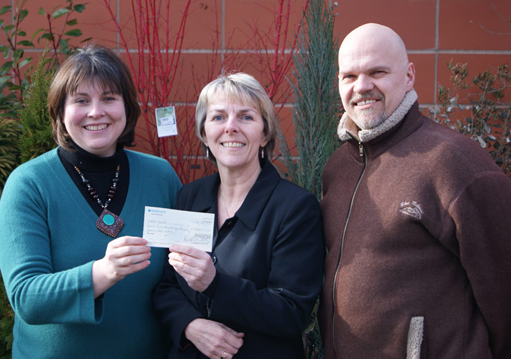 Every year on the 14th February, people throughout the planet join together at 12 noon to tone the heart sound "AH" for a minimum of 5 minutes with the intention of radiating love. People all over the world create a heart wave of sound that resonates around the planet.
World Sound Healing Day was started in 2002 by Jonathan Goldman, the founder of the US Sound Healers Association. Every year, more people from more countries have joined in.
For more information please visit - www.worldsoundhealingday.org
2020 Events
Bartestree, Hereford
Healing Heart Sound Bath at 5.30pm on Friday 14th February at St. Michaels' Hospice, Bartestree, Hereford, HR1 4HA. For more information please e-mail or phone 07855 777051 Kate Clyant - www.resonanthealing.life
Bedlington, Northumberland
Mantra and Chant for World Peace
6pm - 7pm
Contact Chris Headland on 01670 222 735
Brighton, Sussex
Valentine Gong Bath/ Sound Meditation
18:45 – 20:00 GMT
Exeter Street Hall, 16-17 Exeter Street, Brighton, BN1 5PG
Book tickets
Hazleton, Gloucestershire
Join Karen and her gongs for an evening of fun, reflection and soothing sounds, while raising resources for the WWF Australia Bushfire Emergency Appeal.
Hazleton Village Hall, Gloucestershire, GL54 4DZ
14th February - 7pm -10pm
Tel 07752 006 930 or e-mail Karen - to confirm a space.
Donation: A suggested minimum £20 payable on the night although you are welcome to gift more! Every single penny goes to this good cause. Please bring a mat, cushion and cosy blanket for your comfort. Gongbath will start promptly at 7.30pm so please allow plenty fo time to arrive.
London
Kentish Town Community Centre, 17 Busby Place, NW5 2SP
Friday, 14 February 2020 from 18:30 to 20:00
£10 in advance, £15 on the door
Contact by email or phone 0798 511 0979, or click here to book
Stroud, Gloucestershire
Raga Singing with Liz Leachman on harmonium, toning, chants and songs with Harewood Gabriel on percussion.
Friday 14th February 7-9pm
Hawkwood Woodland Sanctuary, Hawkwood College, Painswick Old Rd, Stroud, GL6 7QW.
Suggested Donation £5.00
Contact Josie: 0779 066 8051
Reports from Previous Events
2020 Report from Karen Bresloff
On World Sound Healing Day I hosted a charity fund raising Gongbath for the WWF Australia Bushfire Emergency Appeal at Hazleton Village Hall. We sent collective healing intentions to the earth and judging by the feedback everyone enjoyed and benefited from the experience. There was a raffle with donations from The Ox House wine bar in Northleach and Waitrose in Cirencester, and we finished the evening with tea and Lamingtons; Australia's favourite tray bake! Delighted to say we raised £350 on the night with some more donations still coming in.
Hyssington - 2015 World Sound Healing Day Report by Mike Baron
Gill Evans and I organised this event in Mid-Wales. 42 people turned out for a gathering to help send love and peace around the World. We had a shared feast and everyone joined in with chants and laughter.
Gill led us in connecting with our Angels and added her voice to my Gong Bath. The harmonics of gong and voice were amazing and we plan to arrange more events for group healing with gong and voice.
People made donations to Sound4Healing and we both have had interest in our various courses. We charged £4 to cover our costs and this low entry fee helped to fill the Hall.
Next year the 14th Feb falls on a Sunday, so we intend to organise another celebration of love and sound. HO!
Many thanks to Jonathan Goldman for helping us enjoy our day with his free download of the rolling Ahhh.
Argae Hall Event - Report by Gill Evans
Many people came together at Argae Hall to radiate loving energy for peace on earth, health and happiness to all. The day started at 8.30am setting up the hall and preparing the energy for the day.
It was the beginning of a wonderful day with a wide variety of stalls; crystals, books, aura photography, healing sessions being offered, wonderful hand made blankets and paintings. The stalls all added to the loving healing energy in the room.
Workshops
We had a fantastic number of people all eager to join in with the workshops that were offered throughout the day. People from near and far gathered together to generate love through sound and to experience it's amazing healing power.
The morning started with a Voice Workshop run by Gill Evans. This warmed everyone up for the day. Then at 12.00 noon we all took part in the World Sound Healing Meditation for healing for Mother Earth by toning the AH (heart sound) for five minutes.
The next item on the programme was a selection of Traditional Welsh Carols in three-part harmony, sung by local lads Hedd Evans, Guto Lewis, Ioan Evans, Ifan Bebb and Arwyn Tyisaf. We were also treated to two songs in four-part harmony by Arwyn Groe, Gill Evans, Brenda Davies, Glyn Jones.
Christopher Thorn then brought out his didgeridoo to give us some wonderful healing with its earthy sound. What a lovely workshop!
Mike Barron then gave us a sound healing demonstration. He showed how to heal with the use of the voice and tuning forks. He invited everybody who was watching to add their healing sounds to the healing that was given. Brian, who was the lucky person to be given the healing, slowly got up at the end and said, "Wow, that was lovely!"
Next was a Gong Bath with Simon Heather, with Mike on the drum and myself on the Tibetan bowl. By now everyone was well harmonised through all the workshops they had participated in.
It was lucky that we had a wonderful drumming workshop to bring us all back down to earth, run by Emma Kidd. Emma invited everybody to join in with the drums that they had brought along.
We finished the day with a chant and gave thanks to everyone.
We raised £560 for Hope House Hospice!
I would like to thank everyone who attended for your enthusiasm and loving energy and for your generous donations. I would like to thank everyone who helped in the kitchen, always a very important job keeping us all fed and watered! Thank you! I would like to thank June Meagher for doing the publicity, being in reception and lending her energy wherever it was needed. I would like to thank all those who ran the workshops; Simon, Mike, Chris, Emma, Gill, the boys who sang, and the quartet. I would like to thank all the stall holders who came and supported us. Finally I would like to thank Alan Jeffreys for printing the signs.
Bless You All Keep Sounding!
Love Gill