College CDs
If you are ordering Books by post, please expect long delays due to the postal dispute.
The College of Sound Healing uses a PayPal Shopping Basket for online sales.
Postage and Packaging will be added at the PayPal Checkout.
Click the "VIEW BASKET" button (top right) to view and update your Basket, and pay for your items.
Order multiple copies of items by amending the quantity in the PayPal Shopping Basket.
A PayPal account is

not

required, you can simply pay on-line using your debit or credit card.
Shopping with PayPal is easy and secure - your card details are not shared with the College of Sound Healing.
College Course CD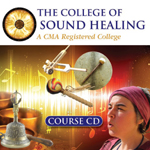 This CD contains the Sound Healing Exercises for the College of Sound Healing Practitioner Training Course.
These are:
1) The Indian Scale "Sa, Re, Ga, Ma, Pa, Dha, Nee, Sa" for balancing the chakras
2) The Musical Intervals for healing the body, mind and emotions
3) The Sanskrit Bija Mantras for balancing the chakras
Download file size: 86 megaBytes. Disk space required: 116 megaBytes.
Seven Healing Drones CD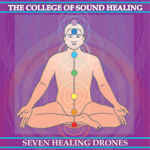 Drones have been used for healing for thousands of years. This CD contains drones on all seven musical notes starting with the note E. Each drone is ten minutes long.
Each note of the musical scale has a different effect on the body. The drones enables you to create musical intervals.
You can also use these drones for healing or for meditation.
Research has indicated that listening to musical intervals helps to promote healing in the body and destroys harmful cells.
Seven Healing Drones excerpt
Download file size: 156 megaBytes. Disk space required: 165 megaBytes.
Sound Healing Workshop Double CD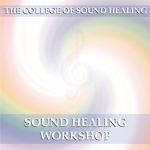 CD 1 - Sound Healing Exercises
Deepening the Breath / Toning / Four Directions Exercise / Laughter Exercise / Harmonics Exercise / Sa Re Ga / Sound Bath / Gong Bath / Himalayan Bowls and Tingshas / Grounding Exercise>
CD 2 - Sacred Chants
Love Light Peace / Feel the Earth / Sing from your Soul / Om Mani Peme Hum / Tue Tue Barima Tue Tue / Now I Walk in Beauty / Mayenziewe / Jamil Allah / What a Goodly Thing / Shri Ma / Om Tare Tutare Ture Soha
Recorded at the College Tutors Gathering in May 2009.
For more details and to preview individual tracks, please visit the College Chants page.
Healing Drones CD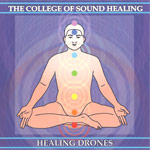 This CD enables you to create all the musical intervals in a sound session. Select one of the four different drones and sing the musical scale to your client while the drone plays in the background on your CD player.
This CD is also good to use for meditation.
All proceeds from the sale of this CD will go to the College of Sound Healing.
Feedback from Catherine:
"I absolutely adore the Drones CD. I am using it on myself on a daily basis at the moment. The harmonics are wonderful."
Healing Drones excerpt