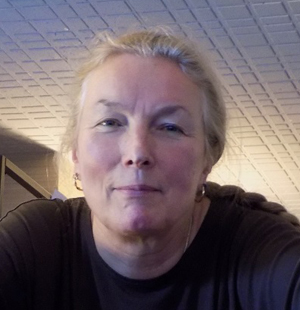 Sheila Whittaker is the senior Gong tutor for the College of Sound Healing, and runs the Gong Practitioner Training Course, which she authored for the College in 2009. Since then she has taught this very popular and comprehensive Course each year to new groups of students, and recently began training other gong tutors to teach the Course in different areas of the UK and Ireland.
The Gong Practitioner Course is Sheila's main work for the College at this time, and she is a member of the College committee. She also runs several two-day Gong Intensive weekend workshops during the year, so that participants can "dip their toe in the water" and see how they get on with the gong work before committing to the full Gong Practitioner Course. No previous musical experience is needed to participate in one of Sheila's workshops. She also holds twice-yearly all-night Gong Puja ceremonies at the Summer and Winter Solstices for her current and ex-students. Pauline McCrann, Sheila's assistant, is an invaluable aid at all gong workshops and events.
Sheila's history : she is a professional violinist and musician who studied at the Royal College of Music in London. For nearly 20 years she had a thriving career in mainstream classical music, freelancing with orchestras and chamber groups, and teaching violin.
Some 20 years ago Sheila embarked on an alternative musical route, feeling the need to use her musical abilities in a more holistic way : she studied Sound Healing with Simon Heather and Gong with Don Conreaux. She has since specialised in the use of the Gongs for Sound Therapy.
Sheila has recorded three Gong CD's - 'Transcendence', 'Quantum Transformations', and 'Sounds of Stillness', and written two books on the gong which have become classic reference books in this field. They are also used as textbooks for the Gong Course. Her first book "Sound Healing with Gongs - A Gong Book for Beginners" was published in December 2010 . The 2nd book : "In the Heart of the Gong Space - The Gong as a Spiritual Tool" was published in October 2012. Both are available to order from Sheila's website.
Sheila is a member of the CMA and the UK Sound Healers Association. As well as her teaching, she has a private therapy practice near Ashburton on the edge of Dartmoor, south Devon. She is also a traditionally trained Reiki Master.
Sheila still enjoys playing the violin - these days it's mainly folk songs and traditional Irish music - with musical friends and colleagues.